Interview with Sangakoo, the social site for improving your maths.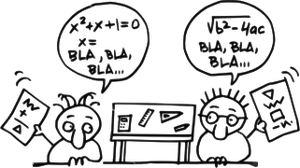 It's always gratifying to see an innovative web start-up that has a positive and laudable mission.
Sangakoo fits this category and is a new social site that helps its users to either learn, or indeed teach mathematics. They have already gained thousands of learners and are also actively followed on Twitter and on Facebook. The website is available in 3 languages, Spanish, Catalan and English.
I was very pleased and honoured to be able to gain an interview with Eualalia Alemany, the CEO of Sangakoo:
Your site helps people to improve their mathematics skills via a social web. What made you think of this idea?
Sangakoo is the result of a meeting between Enrique Gracián, mathematician and expert in pedagogy (science of eduction) and communication, and Pere Monràs, leader in the knowledge economy and founding partner of hèlix3c, a constructive consulting firm. Both had knowledge of pedagogy, intelligence and collaborative work, so they jointly created Sangakoo, a platform designed not to teach but to learn.
Sangakoo is an online network focused on the collaborative learning of mathematics. This unique approach to learning is based on three core principles:
1. Creating: Why learn actively? There is no better way to learn than by creating new problems. If students are able to create math problems they can solve them. Additionally, learning actively fosters creativity, confidence and personal skills such as knowledge, intelligence and study habits.
2. Sharing: Why learn collaboratively? Collaborative learning is a powerful educational tool. The "we" is more intelligent than the "I". Sangakoo creates a virtual space where students can help and teach each other. The learning process is enhanced with the introduction of an accepted and appropriate form of tutoring.
3. CSCL: Computer Supported Collaborative Learning. We put today's technologies at the service of active and collaborative learning in coherence with the principles of knowledge societies: global, connected, trans-cultural, trans-disciplinary and adaptable.
We believe that these 3 concepts are basic for the future of education and that of the knowledge societies.
So with the hard work and the launch of Sangakoo, how do you see it developing in the coming years?
We aim to increase our community of maths learners and at the same time add different subjects to the platform. We envision Sangakoo as an academy by the year 2016 where people would share and actively engage in their learning.
Our Pledge:
Sangakoo relies on a trans-cultural and trans-disciplinary community of people committed to proactive education, creating a collaborative learning technology applicable to diverse contents.
What has been the most enjoyable part of this project?
Knowing we are contributing to foster the attitudes, values and behaviors of the 21st century: Creativity, collaboration and connectivity.
We formulate the paradigm shift from teaching to learning as the challenge we face in this new era.
Learning becomes the key value of knowledge societies. Since the speeding-up of technical progress makes competences obsolete increasingly rapidly, it is advisable, in all fields of knowledge, to encourage the acquisition of flexible forms of learning instead of imposing a well-defined set of knowledge. Learning to learn means learning to think, to doubt, and to adapt as quickly as possible. Such is the basis on which knowledge societies will be built.
What's been the hardest part of your project?
Financing and engaging the school community to believe in other ways to confront the learning process.
Could you recommend people from overseas building start-ups within Spain?
There is no doubt there are some difficulties in creating new businesses in Spain, whether they are tax or labour market related. But they should not be an obstacle to any start-up that wants to do business here for there are solutions to these challenges. For instance, credit constraints faced by entrepreneurs can be overcome with alternative financing sources such as investment funds. The key is to have a clear vision of the project internationally as well as in the long run. Above all, it is crucial to be surrounded by talented individuals. Incidentally it is important to keep in mind that Catalonia, and specifically its capital Barcelona, presents great opportunities to companies in the technology sector.
If you could give just 1 reason why people should improve their maths skills, what would it be?
Maths does not mean just "doing sums", it is a way of learning to think in a structured and logical way. These skills can apply to many aspects of our life, both in work and in the personal environment. Therefore improving these skills is to improve our way of facing up and solving problems that arise in our daily live.